Get ready to watch To All The Boys: P.S. I Still Love You on Netflix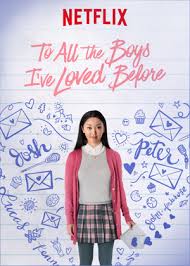 IF YOU watched 'To All The Boys I've Loved Before' on Netflix, then you will remember falling in love with the characters and their love story. It was very popular when it first came out, and now Lara Jean and her crushes will come back for "To All The Boys: P.S. I Still Love You," which will be the second movie in the series. In the first movie, the main character, Lara Jean, had 5 letters she wrote. Each letter was for a crush she had, but she never sent them and kept them hidden in her closet. 
The letters end up getting sent to all the boys by accident. One of the letters was for her neighbor that was already dating her older sister. Another letter was for Peter, her childhood crush. Those two letters were the ones she was most worried about. Peter had recently broken up with his girlfriend, so Peter and Lara Jean decided to pretend to date. They did this in order to make Peter's ex-girlfriend jealous, and also to make Lara Jean's neighbor, Josh, forget that she liked him and about the letter. 
They faked their relationship throughout the whole movie until the end, when they begin to really fall for eachother. The new release trailer starts of with Lara Jean and Peter on their first official date. Then, it skips scenes to when they are at school on the track outside, which is where they first kissed in the first movie. Peter gave her a necklace in that specific location because in his words, "this is where it all started."
Their love story is one every teenage girl wishes to have. In the trailer, it shows how Lara Jean has grown and blossomed ever since she met Peter. You can see how Peter changed her into a confident, strong, and brave girl. That to me is the luckiest thing that could happen to someone in a relationship. The whole movie is really cheesy, but in a cute way. They go on lots of cute dates and promise each other not to break each other's hearts. However, in the trailer you get a small clip of Lara Jean being frustrated, so something could be going on with her and Peter. 
Towards the end of the trailer she runs into John Ambrose McClaren. He is one of the boys she wrote a letter that was sent out with the other four. John kept the letter for proof that someone actually liked him in middle school. Lara Jean admits that everyone liked him around that time. John confesses he only cared about Lara Jean's feelings towards him and not anyone else's. Hopefully that does not start a conflict between her and Peter. 
The movie also talks about Lara Jean's Korean culture. In one clip of the new movie trailer, it shows Lara Jean and her sister dressed in a traditional Korean dress called a Hanbok. If you remember in the first movie, Peter said he drove to a Korean grocery store to buy Lara Jean's favorite Korean drink for there Ski Field trip. I like how they involve her culture in the movie, because it shows diversity in a way in which a lot of Netflix movies don't. 
Watching the trailer really does make me want to watch the new movie. I loved the first one, so I am excited to see how good the new one will be. The only thing I am worried about is the falling action of the movie, I am hoping it is as interesting as the first. If you enjoyed watching the first movie and want to see more of Peter and Lara Jean's story, be sure to watch it on February 12 on Netflix.