Valedictorian Jelena Dragicevic is ready for her next act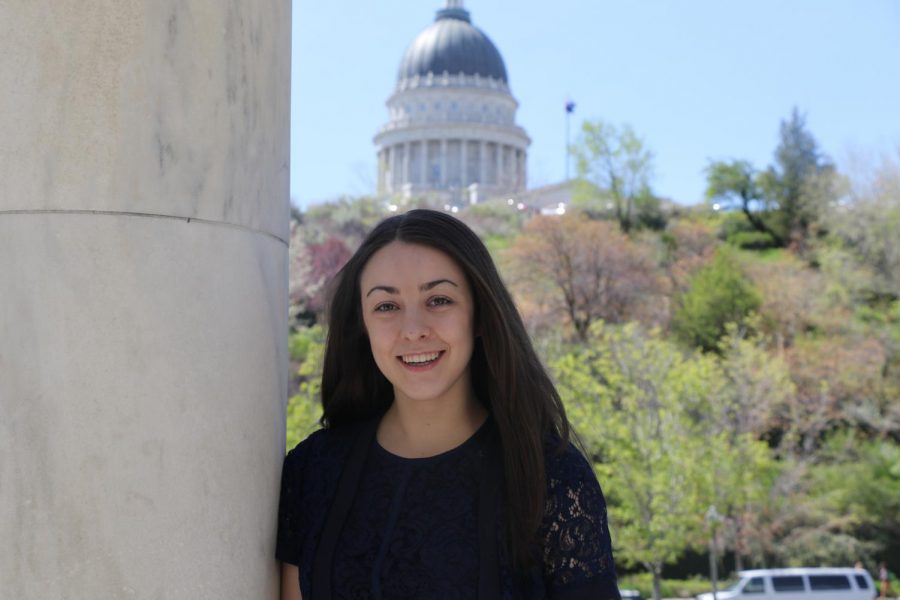 Elena Flores, Reporter
May 9, 2019
Jelena Dragicevic (12) started high school in 2015, and with hard work and dedication was able to accomplish phenomenal things. Dragicevic is the class of 2019's valedictorian and the Wasatch North Sterling Scholar champion in social sciences, but these are only two of the many achievements she has accomplished in her time at Granger. Dragicevic has collected roughly ninety trophies in her years at Granger, and she was even the West Valley City Youth Counselor Mayor. These awards have included local, regional, state, and national titles in debate and literature writing competitions. She has also participated in many academic clubs, ranging from National Honors Society to creating Granger's Interact Club.
Dragicevic started off her long journey to becoming valedictorian in freshman year in Mr. Brocksome's A.P. Human Geography. Brocksome describes Dragicevic as a highly intelligent and hard- working student.
"Jelena stood out before the school year started, because before class had officially started she was already emailing me about the class, and during the school year she would be up late studying and would email me with questions, but I would never respond to her." Dragicevic earned a five on her A.P. Human geography test, which is the highest score.
During her sophomore year, Dragicevic was in Mr. Cousin's A.P. World Civilizations class. "Jelena is a great student and will be an amazing ambassador for Granger in the future. She loves this school and is proud of where she comes from."
Dragicevic's parents are refugees, and she worked hard by prioritizing her time to obtain what
she wants in life. "Jelena has an appetite for knowledge and she is willing to do anything to work, and she showed a great maturity from a young age. I would have been surprised if she didn't win state for Sterling Scholar or earn the valedictorian title," he said.
She has succeeded during her senior year. Her accomplishments this year alone include state champ for sterling scholar, national debate finalist, valedictorian, and she made it into Harvard. Ms. Parrish expected Dragicevic to obtain these accomplishments.
"Jelena always wants to know more and she never rests because of that. During senior year she has developed a great amount of confidence and it is very inspiring." Something that is very interesting about Dragicevic is that she builds on what she knows through communicating with everyone around her, because she is so captivated by what her peers and teachers have to say.
"After having Jelena as a debate student for four years, I have seen her become more social, and she knows how to handle herself better," Dr. Tuckness said. In her freshman year she won many first place trophies and she was even a nationalist finalist that year. "Jelena is recognizably the number one speech student in the state. In debate class, she always worked with other students, especially the younger ones to help them improve," he said. She is described as a natural leader by Dr. Tucknes and many other teachers.
Dragicevic doesn't just work endlessly for herself, she also works to represent the students of Granger. Her friends describe her as kind, loving, and humorous. "I just wish she could see how beautiful and smart she is for herself, the way that others see her. It has been an honor being her friend," Leila Mujic (12) said.