GHS/HHS Rivalry Car Show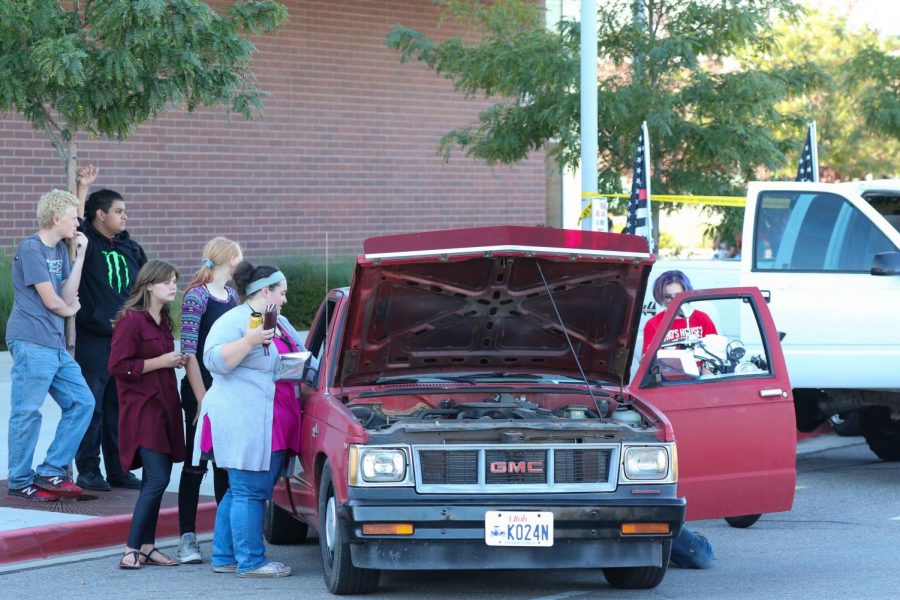 Enrique Tavares, Reporter
October 10, 2019
THIS YEAR the annual homecoming car show turned into a rivalry car show with Hunter high school. Hunter students seemed to be missing at the car show, though, as attendance from them seemed low. However, the car show was still a successful event with people who came and participated. The car show had many different cars "Car shows are exciting, and there is a lot to see in them," Mr. Marillo said. "I wanted to see what kind of cars people drove in my community," Bryan Lopez (12) said.  Several students came to show off the cars they own. There were cars such as a Neon Srt, Honda Civic, drifters, and more. It could be considered impressive that high school students own those types of cars.
One might wonder why those students chose to bring those cars to the show. Obviously still being highschool students, participants said that the car they brought was their only car, their cleanest car, or just because their car was truly one-of-a-kind.  Some might be pretty messy when it comes to their cars. It takes a lot of effort to keep them clean and fresh, but it's definitely worth it. 
Car show attendees went to this year's car show because their friends wanted to go, while others make it a habit to go every year no matter what.  "I wanted to see what the students were going to bring," one atendee said. Coming every year to these events takes some serious dedication. Overall, the students there who came to participate and watch found that the event a total success. Students weren't the only ones who came to this event, so I went and interviewed the teachers. 
David Miller had a lot to say. When asked why Granger allowed Hunter to participate in our car show this year, he said, "we are challenging Hunter, if they don't show up, they're scared." Since Hunter didn't show up, I guess they really were scared. "It's open for any staff and students from anywhere, to enjoy the car show, carnival, and game," Mr. Miller said. Since the car show was a success, I decided to ask Coach Miller about how he plans a car show. "You get the word out with posters. Go to auto body, stores," Mr. Miller said.
Other teachers had a great experience at the car show. "I like it because it's a smooth ride, the color. It's my queen, treat her special," one teacher said about his car. He really loves his car, even after only having it for a month. That's one strong connection in such a short period of time. 
This show was a real success. I honestly had a fun time looking at all the cars at the show, as well as interviewing my peers and the staff. Many people came, and I'm hoping they have the same energy, or even more, towards the car show. It definitely took time to organize, so I want to thank the students and teachers who helped make this happen, because of their time and effort, they made all this happen.