Super Lancers receive recognition by going above and beyond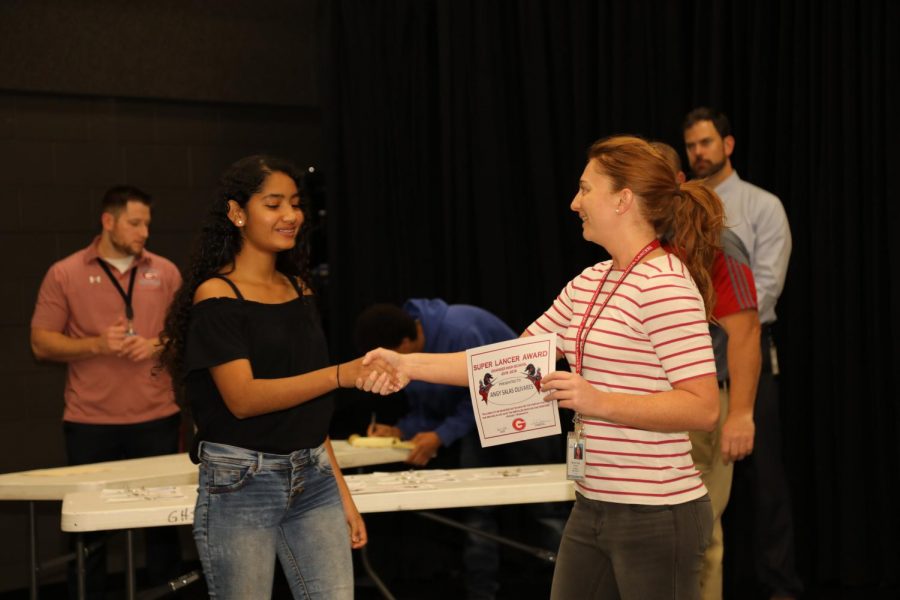 Stephanie Gutierrez, Reporter
December 10, 2018
SUPER Lancers have been nominated for the 2018-19 autumn school year. Many thoughtful and empowered students show what they can do, whether it's dancing, playing basketball, or even debate. However, many more Lancers don't get noticed. Just recently, 19 students were selected to be Super Lancers in recognition of their commitment to success at Granger High.
Nineteen Super Lancers were recognized in front of administration, faculty, and family in the Black Box on November 1. Not only did they get certificates for their outstanding behavior, they were awarded a few other things as well. The Super Lancers received a gift card, a certificate, and a nice breakfast buffet. They even got to share this memorable moment with their family members. Photos were taken for banners that will hang around the school for students, staff, and administration to see on a daily basis.
Granger's 2018-19 school year Super Lancers were the following: Diego Pimentel (12), Xavier Berlett (9), Tristin Heath (12), Steven Sola (9), Jesus Labastida (11), Angy Salas Olivares (9), Jezibel Herrera (11), Esmeralda Rodriguez Garcia (9), Cee Gee Javellana (9), Frank Stevens (11), Chester Young Yuen (10), Jacqueline Mendoza-Ruiz (12), Ari Woody (12), Slade Gordon (12), Raymond Hardisty (9), Tita Muhigirwa (10), Fabian Perez (10), Darol Roeun (11), and Alejandra Beltran Zapata (11).
Granger's administrators strive to give students recognition. "Students just aren't getting enough recognition; the ceremony was something memorable that I know students will take good pride from," Mr. Anderson, an assistant principal, said.
Being a Super Lancer allows students to gain recognition at school. Hundreds of students go beyond what is expected every day. However, they don't necessarily get the chance to be recognized. These Super Lancers show up to school, do what is asked for by a teacher, and they contribute throughout the day.
Many proud teachers decided who to choose based on how the student bettered themselves throughout the year. Whether it was attendance, grades, in-class contributions, etc. Teachers also narrowed down their selections to students who don't get recognized by the school. "Being who I am is what has allowed me to receive this award," Fabian Perez (10) said.
Mr. Timothy has been part of this event in previous years. He likes to make sure that the student he chooses will be the correct one. Beltran stood out to him the most because of her positive attitude. "Alejandra is very concerned about everyone else. She has a good attitude and is very positive," Mr. Timothy said.
Mr. Timothy did not choose Beltran because she has a high honor roll GPA, but because she deserved it for being the student she is every day.
Lancers' outstanding behavior is what allowed them to get the Super Lancer award. Every day, they show up to school ready to learn, knowing what is expected of them at all moments.
However, it's not necessarily about being a teacher's pet. Anyone is eligible to earn this award. Simply being a great student is what stands out to a teacher, in which they would love to make sure students are recognized for. This award would be a great addition to a college application resume.
There are no specifics when it comes down to who deserves to be a Super Lancer. Students may receive this award for a variety of reasons.