Lancers use many techniques to study for tests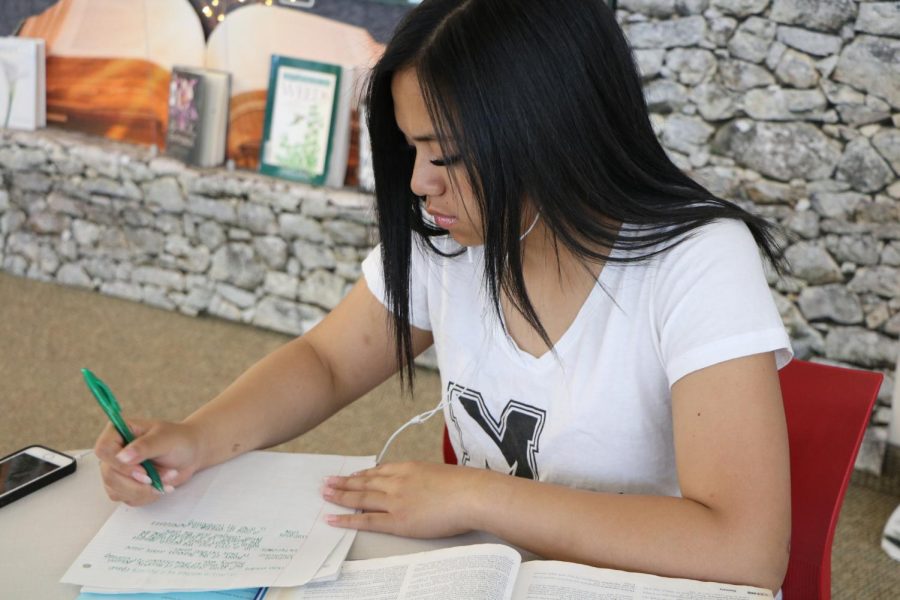 Ivan Siete, Reporter
September 13, 2019
LANCERS all have their different ways of studying. Many Lancers hope to get that 4.0 GPA, but it is very hard to accomplish that without putting any work outside of school. Lancers use different techniques to get the most out of studying. 
Angel Galindo (9) tries to keep his grades up because of the basketball team. There is a GPA requirement that he has to meet to stay on the team. Galindo spends a minimum of 30 minutes a day doing homework. Galindo doesn't study unless a test is coming up, and he loves using Quizlet. 
Many students keep their grades up to make the team they want to join. Even though a season only lasts for a couple of months, student-athletes need to maintain a certain GPA all year round because coaches look at all quarters, not just the ones the student plays for the team. Plus, doing bad one quarter affects one's cumulative GPA, which if significantly bad, can prevent a student from playing on a team. 
Arleth Antonio (10) usually spends 1-2 hours a day on homework. "A hack would be just to take very good notes," Antonio said. Antonio also keeps a planner to help her keep track of all her work. When Antonio struggles, she tries to use the internet to help her. If she's still struggling, she asks her teachers for help. 
Taking great notes has a great advantage when it comes to studying for a test. Cornell Notes are a popular note taking resort. It helps organize notes so students don't get lost in a cluttered mess.  
Gloria Rodriguez (12) doesn't spend that much time on homework because she usually finishes it at school. When it comes to taking a test, however, she puts more outside time into it. Rodriguez struggles with memorizing things, so she creates physical flashcards to help her. "For some reason, it helps me memorize things better," Rodriguez said. Rodriguez wishes she would've learned such study techniques earlier in high school. 
Flashcards have been a ton of help for many students for a long time. There are apps that students can make flashcards with. One of the most popular apps is Quizlet because it offers flashcards, personalized tests, and other ways to study for a big test. Students can also just go the traditional way and make physical flashcards. 
Fernando Estrada (12) studies or does homework for 20 minutes and then takes a quick break before going back to work. Estrada likes having friends to study with because it makes it easier to concentrate for him. Estrada also keeps a planner in his backpack to stay up to date with his work. 
Having a planner will keep students organized and up to date with everything. Students won't miss due dates. Many students use planners in elementary and junior high, since it was provided and encouraged by the school. It's a technique that should be taken into high school and beyond since it's very helpful.  
Rey Martinez (12) spends a lot of time on homework, especially on math because it is his most difficult subject. YouTube and Quizlet have been a big help for Rey since he can't always stay after school to get help. Rey doesn't really have a study hack, but he does wish he had a study partner. Besides that, Martinez likes it to be quiet when he's studying or doing homework. 
The internet has been a game changer when it comes to studying. Anything students are having trouble with they can look up how to do it in a matter of seconds. YouTube is a very popular website when it comes to studying. 
Students learn better in different environments. Some students like studying in a quiet room with no distractions and others like going to a park or library. Students should try different environments to see which they like best.
Noah Rivas (11) spends an average of 30 minutes to an hour on homework every day. Noah reads his notes outside of class just in case he has missed something. Rivas also uses Google and messages people in the class that might be able to help. Rivas takes advantage of many of the things he has like Google Calendar for organization, a desk to study on at home, and just writing down what's due. Rivas uses the Pomodoro method to study. 
The Pomodoro method is a time management technique. It uses a timer to break down work into intervals. It consists of studying for 25 minutes and then resting for five minutes. 
There are many study hacks that students can use to achieve that 4.0 GPA. The only thing that is left then is trying many methods and seeing which one works best.